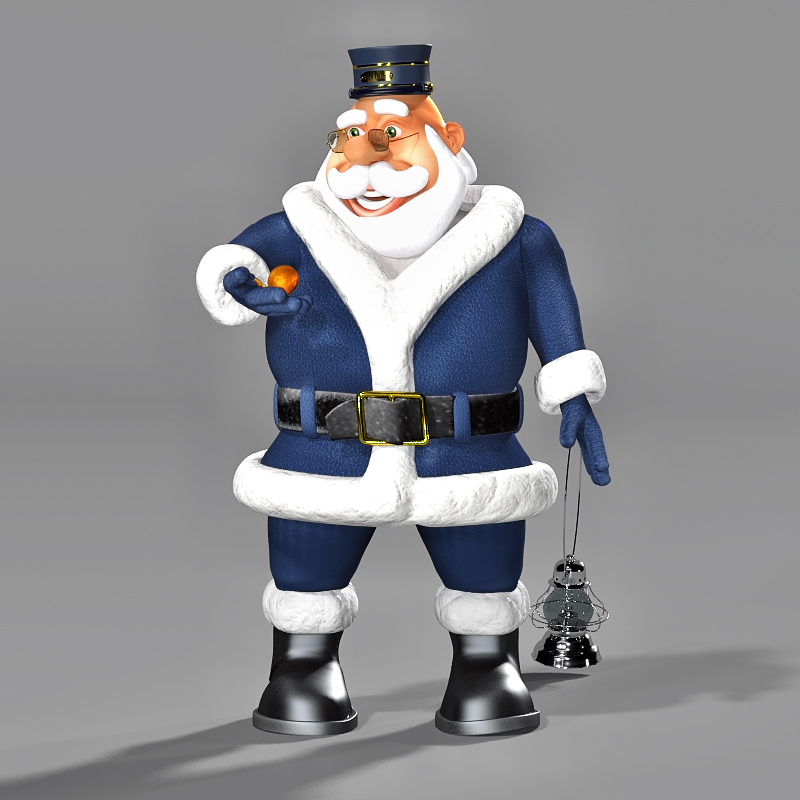 Here's a render of Classic Santa 08, aka Train Conductor Santa, rendered in Poser 11's SuperFly renderer.  Vote now in our contest, before its too late!
The countdown to the latest addition to Toon Santa(tm) 15 the original Santa for Poser (and compatible with DAZ Studio).
NOTE: It isn't too late to take a guess in the contest! Vote either on the Mirye Forum or on this blog here.
Toon Santa 08 is themed as Train Conductor Santa. Train Conductor Santa includes both a traditional blue style Santa hat, a train conductor hat, coachman's lamp, pocket watch and glasses.
When we released Train Conductor Santa, we also released Christmas Village 08, which includes a complete train engine, train tracks and train station!
It is worth noting too that Toon Santa is built up the free Chunk 3D model from our Toon People Team.  Chunk includes both male and female versions, each with their own clothing. They are compatible with Poser 8 and higher and DAZ Studio 4.5 or higher.
Learn more about Chunk 3D and how you can get him for free.
Pre-Order and Save Up to 20% on Toon Santa 15 & More?
Do you want to get Toon Santa or Toon Santa's Christmas Village 2015 as soon as its ready? You can pre-order either one now and save 10% individually, or 20% on the bundle. You will get Toon Santa 14 right away, and the update as soon as its available.  If you order Toon Santa 14 on Content Paradise, you can also get a free upgrade after registration and proof of ordering after November 10, 2015.