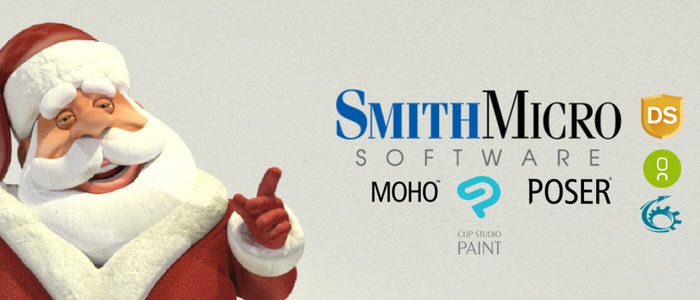 The Guess the Theme of Toon Santa Contest is back for 2016! Guess as many times as you like – there are prizes! New sponsors including SMITH MICRO!
November 15, 2016 – Prize List Expanded with New Sponsors!
The Meshbox Design  team welcomes new prize sponsor, Smith Micro! Now it is possible to win Poser, Moho or Clip Art Studio!
Toon Santa ™ is the incredible Santa Claus character for use with Poser 8 or higher and DAZ Studio 4.5 or higher. Because Toon Santa is based on Chunk, all clothing is revised and removable, so you can switch and swap props and clothing easily. Plus, you benefit from all the advances of the most recent Chunk, available for free through Mirye Store, where you can also get all of the other Toon People as well.
What Came Before
Classic Red Santa
King of the North Pole Santa
Train Conductor Santa
Ice Mountain Santa
Steampunk Santa
Father Christmas (British Santa)
Gentleman Santa (Victorian Disguise)
Chef Santa
Wild West Santa (Old West Disguise)
Fedoraville Santa (1950s Disguise)
What is it this year? It isn't any of the ten Santas that came before. Now you can guess, and you can guess as many times as you want. And there are prizes too!
Exact Guess Prizes
The participant who guesses exactly what the theme is will receive:
Note that in some years, we haven't had an Exact Guess Award, because nobody guessed correctly!
Great Guesses Prizes (three guesses we like the most!)
RULES: Void where prohibited or where rules are disqualified or otherwise modified by law. Must be 18 years old or older.
Reply here on the Meshbox blog with your answers or on the Meshbox Discussion Group at Mirye Software. Any and all winners will be announced when Toon Santa 2016 is announced. Make sure to return here for news!