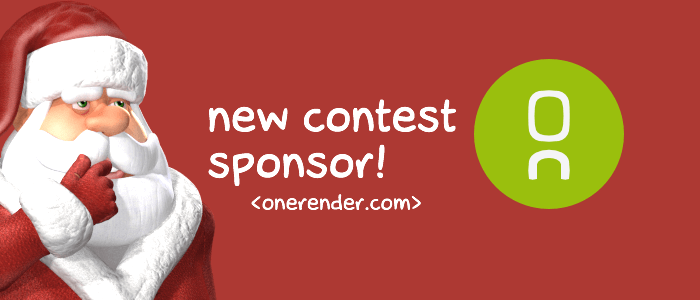 Grand winner gets a six month PRO subscription ($594 value), three most interesting get one month PRO subscriptions ($99 value).Meshbox Design welcomes OneRender as a newest prize sponsor for the Guess Toon Santa 2015 Contest, adding over $890 worth of prizes. They join Smith Micro and Mirye Software who are also including software prizes.
OneRender is an in-browser 3d layout and design tool backed by a powerful cloud rendering system. Import your models, set up your lights and materials, then render! Pro memberships will include render points that let you leverage Amazon Web Services to render very large or even 360 degree video – very, very fast!
The first person to correctly guess (if anyone guesses) the theme for the 2015 Toon Santa will get the following prizes:
Toon Santa 15 + Christmas Village 2015
Plus, three people who provide the most interesting (but incorrect) guesses will also be able to choose one of the following products: Poser 10 or Anime Studio Debut 11 or Manga Studio 5 and also get a one month PRO subscription to OneRender.  All software is delivered as a digital download.
For complete details on the contest, please see the link on the Mirye Software website.
You can answer by reply to this blog entry here, the first blog entry, or on the Mirye Software website.