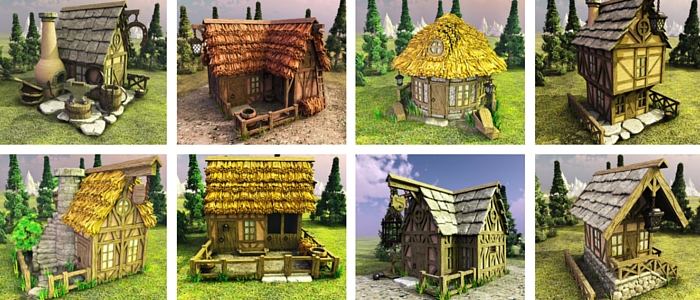 Final day for saving 20%  on this model set for 3DS MAX (for game licensing), Poser / DAZ Studio, Shade 3D, Vue, Bryce and Blender.
Builder's Medieval Village Volume 1 series is a collection of models designed for creating beautiful, growing medieval towns such as you find in 2D strategy builder type games. Each part of each model is designed to stand alone for use by itself, or as a part of the parent model. Use the Art License version to render buildings for your builder games, or art and animation. The Complete Edition is also available that contains all seven publicly available models, plus a bonus eighth model that is NOT available separately.
Order the Complete Edition Now
Builder's Medieval Village Complete Edition Contents
BLMV1V101 Medieval Blacksmith
BLMV1V102 Medieval Inn
BLMV1V103 Medieval Sheriff & Jailor Building
BLMV1V104 Medieval Medicus
BLMV1V105 Medieval Mortician
BLMV1V106 Medieval Stable
BLMV1V107 Medieval Town Hall
BLMV1V108 Mayor's House (BONUS MODEL)
The Art license versions cost $49 ($39 during intro price) and allow for rendering images and animations. The PRO versions of Complete Editions include the license to include geometry and textures into runtime environments such as games.
Builder's Medieval Village Complete Edition Gallery