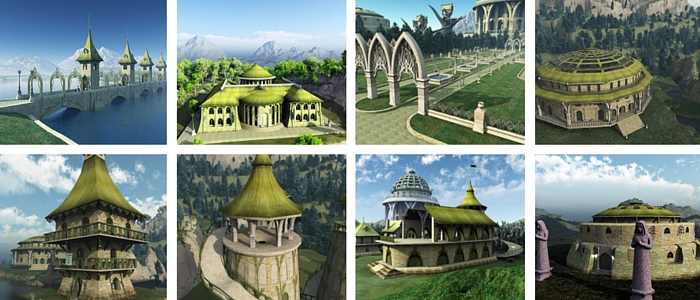 Elven Village Volume 3 is available for 3D Studio MAX, Poser / DAZ Studio, Vue 3D, Shade 3D, Bryce and now Blender. Save 41% through June 13, 2016.
Elven Village is the best selling fantasy series of 3d models from Meshbox Design that artists and game designers can license for use in their works. Released in sets, each set includes eight models (seven individuals plus a bonus model in the Complete Edition)..
Elven Village Volume 3 Complete Edition (and standalone models) is now available in a native Blender version; furthermore, purchase Elven Village Volume 3D Complete Edition through June 13, 2016 and save 41%! For all art versions that comes to less than $3.60 per model!
Elven Village Volume 3 Complete Edition
This model set includes the following fully textured models:
ELV2V301 Elven Bridge-Gate
ELV2V302 Elven Town Hall
ELV2V303 Elven Village Park
ELV2V304 Elven Village Academy
ELV2V305 Elven Wine Bar
ELV2V306 Elven Grain Tower
ELV2V307 Elven Warehouse
ELV2V308 Bonus Model – Elven Hall of Sleep
Where to Order
Elven Village Volume 3 Gallery