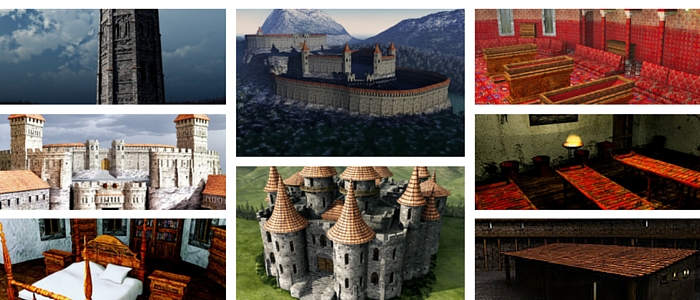 Save 20% through 5/16/2015. House of Nosferatu Complete Edition is 8 3d models for Poser / DS, Blender, Vue, Bryce, Shade 3D and MAX (for game development).This is a 3d model series based around the House of Nosferatu Castle, a lofty and dark vast castle that perches on a high rocky precipice. You get a series of models that make up a vast and detailed castle.
Order COMPLETE EDITION or Individual Models
Order Individual House of Nosferatu Models on Content Paradise
The Poser / DS version features dial driven doors that open / close and scaled according to character scale (characters are the correct scale as compared with the castle).
What is in House of Nosferatu R2 Complete Edition?
You get the following 3d models in the complete edition:
HON2V101 – House of Nosferatu Castle Kit
HON2V102 – House of Nosferatu Guardhouse
HON2V103 – House of Nosferatu Carriage House & Vampire Carriage
HON2V104 – House of Nosferatu Inner Keep
HON2V105 – Hose of Nosferatu Master's Bedroom
HON2V106 – House of Nosferatu Torture Chamber
HON2V107 – House of Nosferatu Tower of Evil
HON2V108 – BONUS MODEL – House of Nosferatu Vampire Harem*
Each individual model normally costs $11.95, but for the art licensed versions, you can get the entire set for $49 ($39 while it is on sale!), representing a huge savings!
House of Nosferatu Vampire Harem Gallery