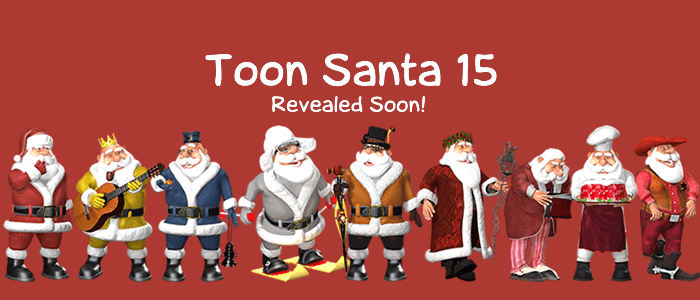 There is less than 48 hours left before we lock down the contest. A grand prize winner HAS NOT EMERGED YET, so $1300+ in prizes still available. Guess Toon Santa 15 for Poser & DAZ Studio!The countdown is over on the previously released nine versions of Toon Santa. These are all included with Toon Santa 15, too!
Enter The Contest
Guess the theme of the new Toon Santa.  Enter as many times as you want before the deadline.
You can vote either on the Mirye Software forum entry or the Meshbox Blog Entry.
Grand Prize Winner
If someone guesses the exact theme first, they get the grand prize which includes:
All software is delivered as a digital download.
Three Best Answers
As selected by the Meshbox Team, the top three answers which did not win the grand prize will also get:
Choice one of the following products: Poser 11 or Anime Studio Debut 11 or Manga Studio 5
One Month OneRender PRO Subscription
All software is delivered as a digital download.
It is worth noting too that Toon Santa is built up the free Chunk 3D model from our Toon People Team.  Chunk includes both male and female versions, each with their own clothing. They are compatible with Poser 8 and higher and DAZ Studio 4.5 or higher.
Learn more about Chunk 3D and how you can get him for free.
Pre-Order and Save Up to 20% on Toon Santa 15 & More?
Do you want to get Toon Santa or Toon Santa's Christmas Village 2015 as soon as its ready? You can pre-order either one now and save 10% individually, or 20% on the bundle. You will get Toon Santa 14 right away, and the update as soon as its available.  If you order Toon Santa 14 on Content Paradise, you can also get a free upgrade after registration and proof of ordering after November 10, 2015.
Pre-Order Now on Mirye Software Store.