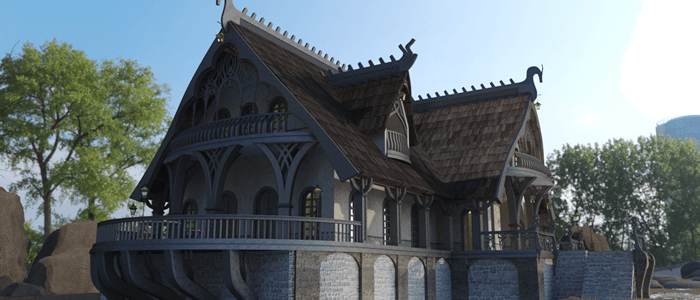 Another look at one of our most popular 3D models in the Elven Village series rendered on the OneRender 3d layout and cloud rendering platform. Here's a look at importing our Poser / DAZ compatible Elven Village Inn.
The Meshbox Elven Village series is one of our most popular 3D model series (Volume 1, Volume 2, Volume 3, Elven Journeys Volume 1), and Elven Village Inn is here. It is available in MAX, Poser / DAZ Studio, Shade 3D, Vue 3D, Bryce and Blender formats.
Get Elven Village Volume 1 on Mirye Software Online Store for only $49.
Id like to show off a few renders done on OneRender, an exciting new online tool for layout out your 3D scenes and then rendering them very fast on a cloud rendering system. OneRender is in beta now, which is free. I believe there will continue to be a free level even after they reach 1.0 status.
Second Look Gallery of Elven Village Inn on OneRender
So if you are familiar with this model, you have already noticed that many of the textures are replaced with native shaders. We didn't get too crazy on the shaders – in fact this is about the darkest version of Elven Village Inn I have seen. This uses HDR environments that are already included on OneRender, plus some earth and water shaders.
OneRender supports a good range of import formats, such as OBJ. Just make sure that your textures are in the same directory as your geometry and in a .zip file.
Once you are inside, you can move objects around using a similar sort of object controller that you find in other applications.
You can also view these images over on the Meshbox Artstation page for them or on DeviantArt.