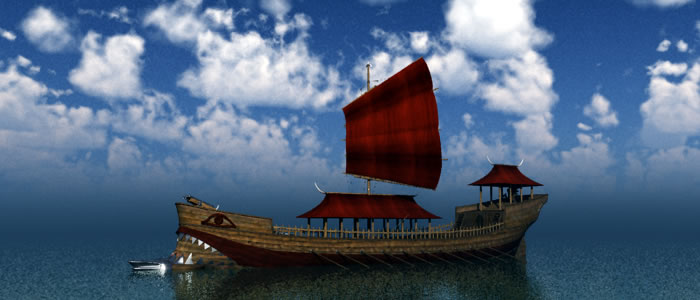 Meshbox Orc Dragon Shaman's Ship 3D model for MAX, Poser/DAZ Studio, Shade 3D, Blender, Vue & Bryce is model 8 of 8 in the series.
About Orc Dragon Shaman's Ship R2
The Dragon Shaman's craft seems comparatively primitive compared to the ships of the black sorcerer or noble, for the Dragon Shaman only uses materials found in the Great Waste to build his craft. Yet the Dragon Shaman still has the will to drive such a vessel, should he decide not to rely on the backs of the slaves that man the oars.
This model is the bonus model in the Orc Journeys Volume 1 Complete Edition and not available separately.
About Orc Journeys Volume 1 R2
The races of Orc are many, from the nobles of the First House of Orc to the wild Dragon tribes of the eastern plains. Though their ships lack the sleek beauty of elven craft, Orc ships are better prepared for battle than their foes. Orc Journeys Volume 1 – aka Orcs and the Sea – is a collection of water craft models based around the Orc themes first introduced in the Meshbox Orc Village Series.
Where to Get this 3D Model
Orc Dragon Shaman's Ship Gallery