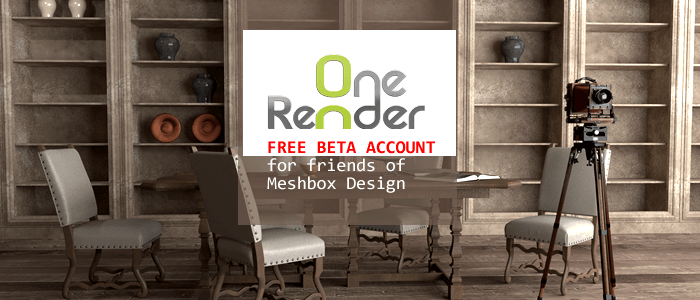 Layout a 3D scene then cloud render through your browser. OneRender is awesome and we are offering free beta invites!
A few months ago, the Meshbox Team started playing with an earlier beta of OneRender, and it really impressed us in that we could upload a complex OBJ or two, layout a scene with objects, customize textures, set up interactive lights and then render…all within a web browser. The magic all happens behind the scenes in the OneRender cloud, where someone else's  GPUs are crunching render cycles.
We started talking with our new friends at OneRender and managed to secure a special invite for Meshbox Design and Mirye Software customers.  We are issuing a special invite code to go through a special beta invite form.  If you know us, then you know why you want to do it.
If you didn't already get an invite code from us, no worries. Just go to our partner store Mirye Store, and request a free product from us, like:
OR order any product from the store then, in the Order Notes add:
Please Give Me a ONERENDER INVITE CODE
And Mirye will add it to your order.  You should also check out the video on the special beta invite form to see how easy it is to set up a scene and start rendering.