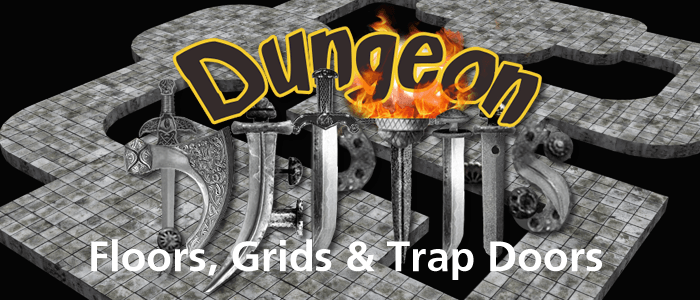 Model 3 of 8 of Dungeon Depths: The First Level is Dungeon Floors, Grids & Doors. Dungeon Dungeon Floors, Grids & Doors 3D RPG style dungeon mapping models make it easy to create custom RPG maps in 3D for quick rendering. Get Dungeon Floors, Grids & Doors by itself or as a part of Dungeon Depths: The First Level Complete Edition.
This model set is available for 3DS MAX, Poser / DAZ Studio, Shade 3D, Vue and Bryce.
Dungeon Floors, Grids and Trap Doors provides the objects you need to layout high quality dungeon level maps. You get a large collection of different sized square map objects, as well as specific curved objects for creating curves in corridors; these work well alone against a neutral background (for later compositing), and also to introduce variations in a flat "board" map surface. Two transparent grids make it easy to overlay a properly scaled grid for 5′ x 5′ measurement, helpful both for pre-visualization and final map renders. This set also includes two sets of trap doors that allow easy connection to a lower level: a stone door with rusty hand ring, and also a double wooden door version.
The set includes high resolution textures with accompanying bump and normal maps to control surface texture.