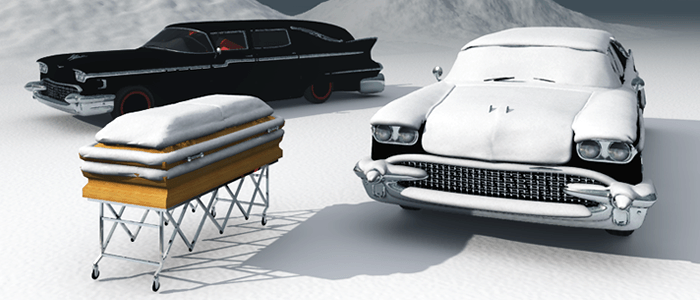 For a limited time, you can get Meshbox Design's Fedoraville 1950s Hearse for free through partner Content Paradise. This is a special, limited time offer that takes place depending on the version you want to license.
The licenses are available during specific dates in April and May 2014:
04/29/2014 – 05/02/2014     Vue Compatible version (done!)

5/3/2014

–

5/9/2014    

Shade 3D Compatible version (done!)

5/10/2014

– ?  Bryce Compatible version


5/10/2014

–

?

 Poser / DS Compatible Version (visit often to see when!)
You can also purchase the entire set of 9 Fedoraville Vehicles Volume 1 Complete Edition for only $29, a 41% savings off of the regular price.
An interesting feature of the series are removable snow caps. Create realistic snow scenes easily. All vehicles have engines and completely textured interiors.
In addition to the Hearse, Fedoraville Vehicles Volume 1 includes these models: