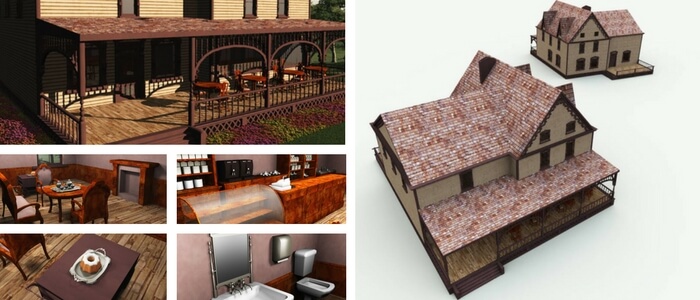 Ada's Coffee House is model 2 of 8 in a 3d model series for art, animation and game art. For Blender, Poser / DAZ Studio, Vue 3D, Shade 3D, Bryce & 3DS MAX. From Meshbox Design.
This Victorian era house was converted into a modern and extremely popular coffee house – Ada's Coffee House!
Guests can enjoy a fine cup out on the front porch or inside a spacious serving area. Special guests can use a back room that has a comfortable couch and even a fireplace – recently expanded to be a complete tea room, with cart and tea cake. There is a beautiful wood counter and glass display case for treats, and behind the counter you can find stocked shelves, modern espresso machines and a pair of sinks for washing up. A fully equipt bathroom is upstairs, in addition to extra rooms you can populate.
Where to Get Pop's Country Store 3D Model
Ada's Coffee House 3D Gallery