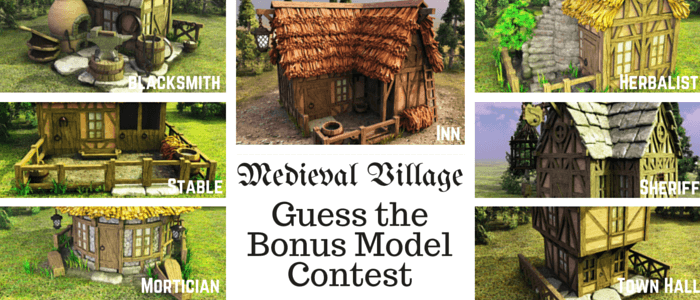 We've released seven of eight models and the bonus model arrives soon. Be the first one to guess the bonus model and win a free Meshbox model set.
CONTEST IS NOW CLOSED.
Builder's Medieval Village Volume 1 series is a collection of models designed for creating beautiful, growing medieval towns such as you find in 2D strategy builder type games. Each part of each model is designed to stand alone for use by itself, or as a part of the parent model.  The models are available for Poser / DAZ Studio, Blender, Bryce, Vue, Shade and in a 3DS Studio MAX  version for game developers.
Models Released to Date
BLMV1V101 Medieval Blacksmith
BLMV1V102 Medieval Inn
BLMV1V103 Medieval Sheriff & Jailor Building
BLMV1V104 Medieval Medicus
BLMV1V105 Medieval Mortician
BLMV1V106 Medieval Stable
BLMV1V107 Medieval Town Hall
See the complete edition here (or pre-order and save 20%) or you can get the models individually on Content Paradise.
Be the first to guess what the theme of the model BLMV1V108 ( model 8 or 8, ie the 'bonus model') and you'll win a model pack of your choice from Meshbox Design worth $49!
Just enter your guess in the comments below, and make sure you don't duplicate someone else's answer. The contest ends either 7.31.2016 or when someone guesses correctly – whichever is first! Good luck!