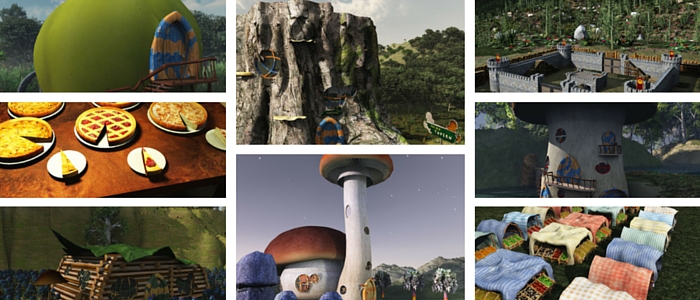 Fantasy themed  edition for art and game dev. For Poser / DS, Vue 3D, 3DS MAX, Bryce, Shade 3D and now…Blender. Save 41% through 7.5.2016!
This popular model set for art, animation and game development is now also available for Blender. Each building is completely textured and furnished.
Individual models are available on Content Paradise and Mirye Software.
What is Included in Gnome Village Volume 1 Complete Edition
The complete edition, available through Mirye Software includes all seven publicly available models plus the bonus model: Gnome Village Pie Shop.
G2V101- Gnome Village Watermill
G2V102- Gnome Village Inn
G2V103- Gnome Village Church
G2V104- Gnome Village Blacksmith
G2V105- Gnome Village Woodcutter
G2V106- Gnome Village Guardhouse
G2V107- Gnome Village Market
G2V108- BONUS MODEL: Gnome Village Pie Shop
ORDER THE COMPLETE EDITION AND SAVE 41% BY 7.5.2016!
Gnome Village Volume 1 Gallery