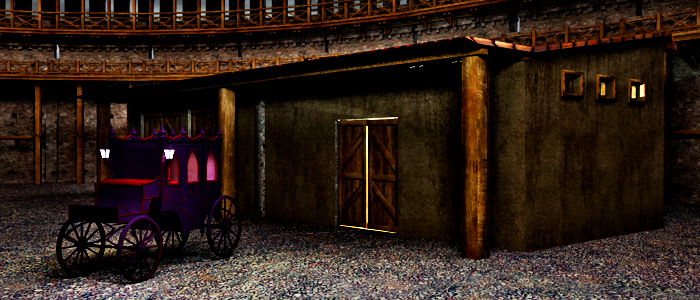 House of Nosferatu Carriage House R2 is a completely furnished and textured standalone and expansion model for the series for Poser / DS, Blender, Vue, Bryce, Shade 3D and MAX (for game development).
House of Nosferatu Carriage House R2 drops right into almost any open space (though we recommend the first castle level) in House of Nosferatu Castle Kit, and it also makes an outstanding stand alone model. The building includes both a 'garage' and repair facility for carriages, as well as a barn for horses. You also get the vampire carriage itself!
PREORDER COMPLETE EDITION  | ORDER CARRIAGE HOUSE | CONTENT PARADISE
The Poser / DS version features dial driven doors that open / close and scaled according to character scale (characters are the correct scale as compared with the castle).
House of Nosferatu R2 Complete Edition
You can purchase models 1-7 individually, or get the entire 8 model complete collection. You can order the complete collection at any time, then receive each model as it is released.
House of Nosferatu Carriage House Gallery