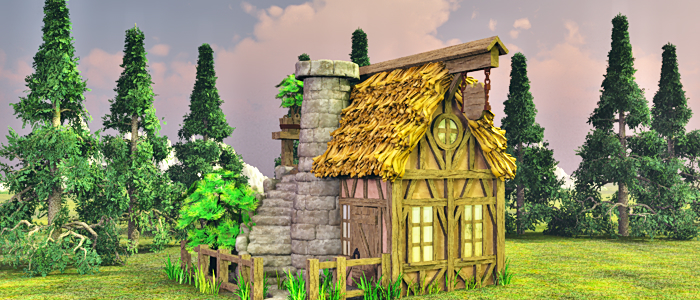 Medieval Medicus Building is model 4 of 8 in a 3d model series for art, animation and game art. For Blender, Poser / DAZ Studio, Vue 3D, Shade 3D, Bryce & 3DS MAX. From Meshbox Design.
This building at first appears to be a shop that sells plants – but the Medicus is one that utilizes plant based compounds for healing the sick and stitching up wounds. The sign is complete except without emblem, allowing easy customization of whatever healing symbol you think is best for your fantasy world.
Each component is separately textured, allowing you to make parts visible or invisible, then render each step of the building as it is built. Includes 14 texture and transparency maps.
Get it by itself or as a part of Builder's Medieval Village Complete Edition, and save! The Complete Edition includes all seven publicly released models, plus a bonus eighth model that's only available as a part of the Complete Edition.
The Art License version includes rendering to stills and animation; you can use your renders in games under the license. If you need to embed geometry in a real time simulation or game, you need the Professional version.
Where to Get Builder's 3D Models
Builder's 3D Medieval Medicus Gallery