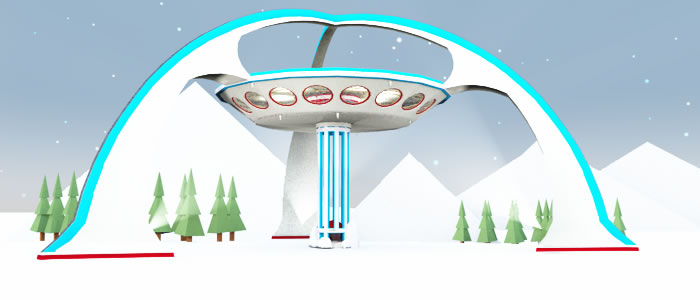 The third model in the Christmas Village 15 series is the Saucerant Sky Lounge 3D Model for 3DS MAX, Poser / DAZ Studio, Vue, Shade, Bryce and Blender.
About Saucerant Sky Lounge 3D Model
Get it on Mirye Store | Get it on Content Paradise | Get the Entire Set
Inspired by the Theme Building in Los Angeles, this appears to be a futuristic flying saucer shape in legs, reachable by way of an elevator to a fully furnished lounge with portal windows. Go all the way up to the ice skating rink on the roof!
Includes removable snow caps AND icicles so you can decide if its a snowy day or not.
Saucerant Sky Lounge Gallery
About Toon Santa's Christmas Village 15
Toon Santa's Christmas Village 15 is a set of beautiful 3D Christmas holiday models from Meshbox Design in the same theme that matches the annual release of the Toon Santa(tm) 3D Santa Claus character.
The theme for Christmas Village 15 is Fedoraville Christmas – based on 1950's Americana or Googie designs. It includes seven publicly released models in the series, plus the bonus 8th model only available as a part of the Christmas Village 15 Complete Edition.