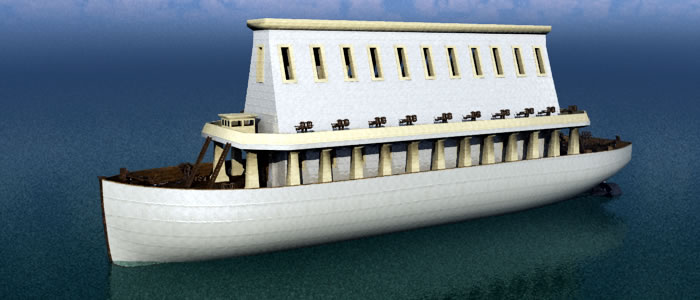 The final model in the series is released in Dwarven Journeys, a series of eight models available for Poser / DAZ Studio, Vue, Shade 3D, Blender, Bryce and 3DS MAX. Sale ending!Dwarf King's Yacht is model 8 of 8 of the model series and only available as a part of Dwarven Journeys Volume 1 Complete Edition. The Yacht is a grand ship of white and gold metals, with a vast hall and throne.  War decks are covered with ballista and other weapons.
About Dwarven Journeys Volume 1 R2
Many races believe erroneously that dwarves are afraid of the sea – yet armored dwarven vessels sail to far off lands, trading and seeking out a new homeland for the exile tribes. Dwarven Journeys Volume 1 – aka Dwarves and the Sea – is a collection of water craft models based around the Dwarf themes first introduced in the Meshbox Dwarven Village Series.
GET THIS MODEL SET ON MIRYE SOFTWARE'S WEBSITE.
Dwarven King's Yacht Gallery