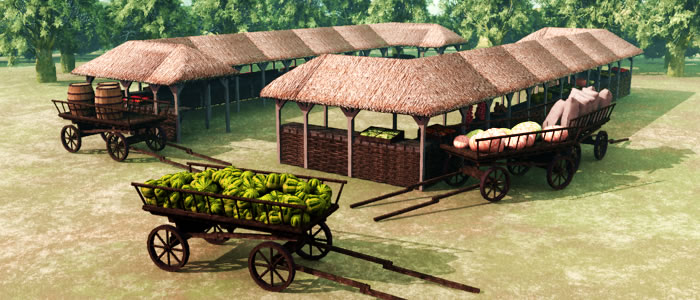 Medieval Ukraine Market 3D is model 3 of 8 of a series of historical 3D models for Poser / Daz Studio, Vue, Shade 3D,  Bryce,  Blender and 3DS MAX. Completely furnished and textured.
This country market has a large internal area, with open booth spaces that can face inward or outward, and farmers and other folk can sell their goods under a thatched, roofed structure. Several carts are included and filled with country goods. This small market is suitable for representing any market of medieval Eastern Europe.
About Medieval Ukraine Village Volume 1
Medieval Ukraine Village Volume 1 series is a collection of 3D models based on the medieval history of Ukraine and the lands of the Kievan Rus' circa 9th-11th century. Medieval Ukraine Market is model 3 of 8 in the series.
Medieval Ukraine Market Gallery