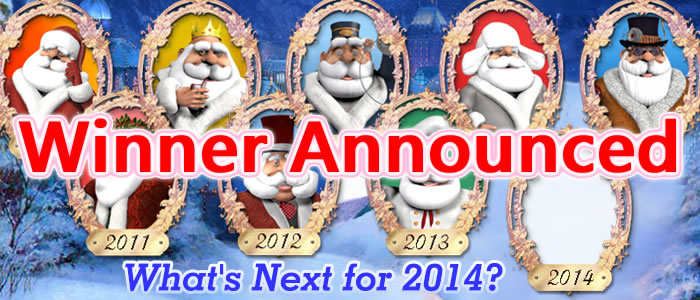 The Meshbox Team thanks everyone who suggested themes for the forthcoming Toon Santa 2014 and matching Toon Santa Village! So who won?
From all of the excellent suggestions, we've selected the answer of Ben Vienerius, who was the first to suggest…drum roll..Wild West Santa! Ben won copies of all of the Toon Santa Villages and Toon Santa 2014, when he becomes available.
Our designers are hard at work on Wild West Santa for Toon Santa 2014, as well as the Christmas themed Wild West Village, aka Toon Santa's Christmas Village 2014.
Toon Santa 2014 will include the newest version of Toon Santa, plus ALL other released versions of Toon Santa – that's a total of NINE Santas, each with a multitude of props, poses and fun objects.
So you can get started with Toon Santa RIGHT NOW (or if you purchased after October 1, 2014), you can order Toon Santa 2014 from Mirye Store, getting all previously released Toon Santas, plus Wild West Santa when it is finally released (will be sent when available).
Toon Santa(tm) is the world famous, original 3D Santa for Poser & DAZ Studio. It is also the basis for the official NORAD Tracks Santa Santa Claus. In December 2013, our Santa was viewed by over 20 million site visitors. Toon Santa has also appeared on airline in flight movies, the Denver airport and the New York Stock Exchange.